What is it?
What exactly is ultrasonography?
Ocular ultrasonography is a special diagnostic ophthalmological examination based on ultrasound technology (acoustic waves specific frequency), for the study of the eyeball through a two-dimensional imaging or by waves (Figures imitating an electrocardiogram). The acoustic waves are reflected on the walls of the bulb and thus receive information on the normal or abnormal anatomy – structure of the fundus and beyond. Despite the introduction of many new techniques for imaging in ophthalmology in recent years, ultrasonography remains, even today, one of the main techniques used by ophthalmologists
What are the types of ocular sonography?
a- scan Ultrasound (scalar apeikonisi in the form of waves)
b- scan ultrasonography (black and white, two-dimensional imaging of the eyeball)
UBM Ultrasound (study of the anterior part of the eyeball
The a- scan sonography produces a very thin beam of ultrasound which is directed at the eyeball and records the reflective wave. The analysis gives information on the axial length of the eye, the depth of the anterior chamber, the thickness of the crystalline lens, some information about the density of the contents of the orbit and also records the presence of obstacles through the point path. Among others, it is useful in assessing the power of the IOL that will be put in an eye during cataract surgery (phacoemulsification).
The b- scan sonography generates a scanning beam large enough in width which gives us a more tactile and visual image. We provide a variety of information on the eyeball, the interior and its components. The ultrasonic beam can be directed more selectively into the vitreous, the choroid, the retina and the orbit. It is an irreplaceable clinical examination when the doctor is not able to visually verify certain points of the eyeball or because of bleeding or other cause opacity of the reflected means.
When do we need to carry out the test?
The ocular ultrasonography is performed usually when we want to have an image of the fundus of the eye for the diagnosis of various eye diseases (e.g. orbital pathologies) or when you want to measure ocular tumours.
Eye conditions for which we perform an ultrasonography:
retinal detachment
choroidal detachment
vitreous hemorrhage
ophthalmic wounds
endophthalmitis
melanoma, choroidal and other intraocular tumours
cataract
congenital glaucoma
very high myopia
pathologies orbital
Ellex EyeCubed
Ellex EyeCubed

At the Institute of Ophthalmology and Microsurgery Ophthalmica the latest generation of ophthalmic ultrasound system Ellex EyeCubed with UBM is available, known for its unparalleled sensitivity and exceptional image resolution, giving unlimited diagnostic capabilities. The high frequencies with which the EyeCubed works offer unparalleled detail and quality shots and minimizing of the noise. Rightly, today, some talk about the best ultrasound on the planet.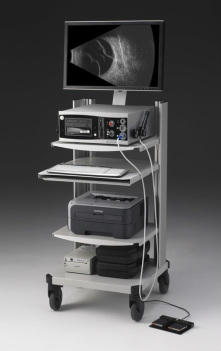 Take a look at all the specifications of the system Ellex EyeCubed.